C308 5MP 4-Cam Wifi Camera + Base Station
Tax included.
• New 5Mepapixel: A new 5MP(2880x1620) sensor, performs a wider viewing angle, compared with traditional 5MP (2560x1920).
• Outstanding Wi-Fi HaLow: Operates on a lower frequency(902-928MHz), which penetrate obstacles more effectively, compared with 2.4GHz and 5GHz.
• Strong Compatibility, Less Interference: Work with your home devices without interference, even you have some other Wi-Fi security cameras.
• Two Way Audio: Built in microphone and speaker allows talk and speak to the other side in real time.
• SD Card Slot: Each camera support a maximum of 128GB SD card for free local storage.
Order within
[totalHours] hours %M minutes
to get it between and
Safe Checkout

Free & Fast Delivery

30-Day Hassle-free Returns

One-Year Warranty

Lifetime Customer Support
Description
Wi-Fi HaLow Technology
Compared with normal WiFi like 2.4 and 5 GHz, the Wi-Fi HaLow Technology of Sub 1 GHz WiFi features a better obstacle penetration and performs outstandingly on longer-range signals as well as a more stable wifi connection.
Ultra-long-range Transmission
Thanks to the outstanding wifi technology, this base station system is a perfect choice for ultra-long-range wireless solutions, which support a max 3000ft ultra-long transmission distance in an open area. 
5MP Color Night Vision
This wifi camera system comes with three optional modes including infrared night mode, color night vision mode, and smart color night vision mode. When the night falls, you can turn on with white lights for recording in full-color day and night. See more clear and valuable details to identify people and vehicles.
Double Defense against Intruders
Be alert and ready to react to any potential danger via smart light and sound alarm system - triggered by human motion events or controlled manually to keep troubles away. Built-in 2pcs brilliant white lights and high-pitched siren (up to 85dB) offering double insurance.
Respond in Real-Time
The built-in mic and speaker let you stay in touch with your household. Check in with the family or tell your dog to stop barking, or say hello through the ZOSI Smart App.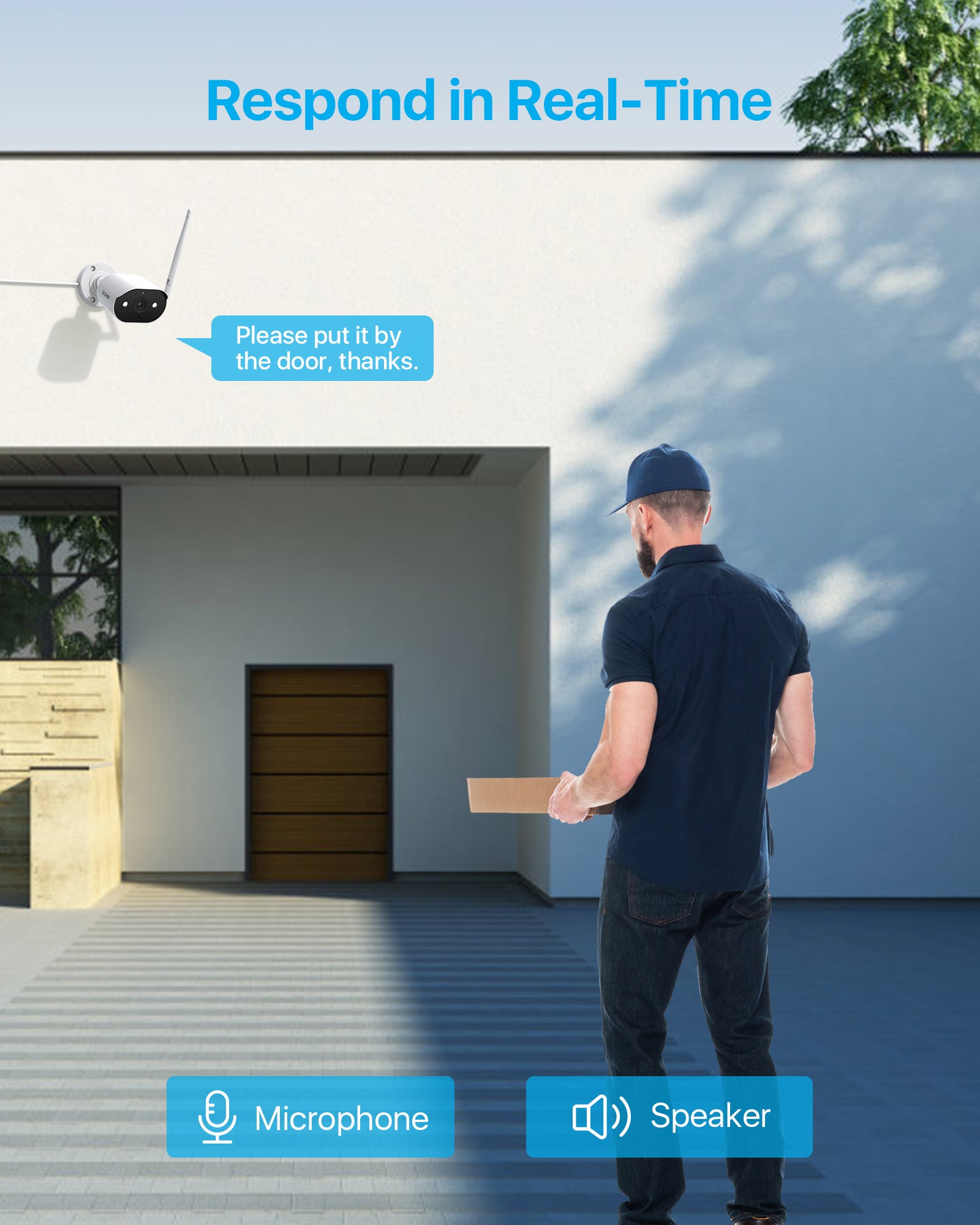 SD Card Storage & Optional Cloud Storage
The cameras support up to 128GB micro SD card for local storage(SD card Not included) and 30-day free trial cloud storage for a new account.
Work with Alexa
Get fast access to your security camera with your voice control. Just use simple voice commands to activate camera features with Alexa.
Support Max 8 Cameras
This is an expandable base station, in which you can add a max of 8pcs of C308ah cameras. Feel easy to follow a few steps to add more cameras to your home security surveillance. 
FAQs
How does WiFi HaLow network work in C308AH security system?

Do I need an extra WiFi HaLow router to use this NVR system?

Do I need to setup the wifi connection for each camera manually?

Do I need a subscription to use the NVR system?

Does C308AH NVR system allow 24/7 recording?

Can I view the camera on desktop computers such as TV, PC, and Mac ?

Can I view or control the camera from another location?

Does the camera record audio? Can I turn off audio recording?

How does the siren and warning light work?

Can the light activated only, siren activated only, or both activated?

How many cameras can I add to this NVR system?
C308 5MP 4-Cam Wifi Camera + Base Station
€159,99